Alleppey Tour
| | |
| --- | --- |
| Location | Alappuzha District, Kerala |
| Significance | Ideal backwater destination; also called 'the city of coir & carpets' |
| Must Visit | Backwaters, Houseboats, Boat Races and Ancient Hindu Temples |
| Best Time To Go | August to March |
| Temperature | 22°C to 35°C in summers, 18°C to 30°C in winters |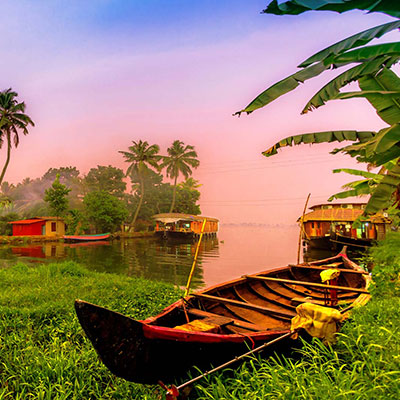 Alleppey, also known as Alappuzha, is a town in Alappuzha district of Kerala. It is a town with beautiful blue lagoons, canals, backwaters and beaches. It was entitled as the 'Venice of the East' by Lord Curzon because of its large network of canals passing through the heart of the city. Alappuzha is now the commercial and industrial centre for the coir industry and for cashew nut processing.


History
According to the past of Alleppey, it had trade relations with ancient Greece and Rome in B.C and in the Middle Ages. It was founded by Raja Keshawadasan, the Deewan of Travancore, in he year 1762.
Flora and Fauna
Alleppey is a land of the water, birds and human civilization. Many exclusive species of aquatic life including frogs, crabs and mudskippers, water birds such as cormorant, darter, kingfisher and animals such as turtles and otters live in and alongside the Alleppey backwaters.
Alleppey Attractions
Houseboats
The 'backwaters' are the major attractions in Alleppey. Cruising through the backwaters in a Kettuvallam or houseboat makes one feel elated. In fact, savouring the joy of this intoxicating boat ride is one of the chief facets of Kerala visit, to the tourists. The journey is indeed one of the prime attractions for tourists travelling in Alleppey.
Kettuvallams or houseboats are the boats of Kerala which were originally used for the purpose of transporting food grains from one part of the state to another, chiefly rice. However, most of these ordinary boats have been transformed into luxurious water vessels since 1990s to compliment with the state's thriving tourism industry. The Kettuvallams are about 25 metres long, assembled by binding the planks of jackfruit wood together deftly. The unique factor in this is that no nails are required to hold the planks together.
The houseboats have an open foredeck sheltered by a vaulted roof of braided screw pine grass called vembanad. Most probably, the Vembanad Lake got its name due to this reason. There are some luxurious boats having air-conditioned well-decor bedrooms with attached washrooms aided with modern facilities. These houseboats are available on a daily rental basis as well as for longer duration to take visitors on the old waterways. The peaceful cruises portray a highlight of the life on the water side with extravagant views of the water, land, birds and human civilization.
goto topAsk For Suggested Tour
Canoeing on Backwaters
The supreme attraction for a tourist visiting Alleppey is the inland water-ways, lakes, lagoons etc. All these lakes are navigable and a houseboat or a boat journey through these lakes is a treasured experience.
It is certainly worthy of note that Kerala has over 900 km of interconnected waterways, rivers, lakes and inlets that make up the Kerala backwaters. The starting and end points of backwater cruises are a number of towns and cities amidst the stunning landscape. National Waterway No. 3 which connects Kollam and Kottapuram facilitates both cargo movement and backwater tourism.
Palm trees, Pandanus shrubs, various leafy plants and bushes grow alongside the backwaters, providing a green tinge to the vista. One can enjoy the lush greenery on either sides with paddy fields, shrubs and trees, rejuvenates one's mind while on a cruise in the houseboat (kettuvallam). The Kerala house boats (kettuvallams) are also made in the traditional Kerala style architecture and a houseboat journey is going to remain etched in mind forever.
goto topAsk For Suggested Tour
The 'backwaters' are the fascinating attractions in Alleppey. They form a distinctive feature of Kerala. The backwaters are popularly known as kayals in Mwalayalam. They are basically a wide network of canals, lakes and lagoons extending erratically along the coastal regions. The largest backwater is the two hundred five square kilometers Vembanad Lake, which connects to the Arabian Sea at Kochi Port. Rivers like the Periyar and the Pamba also pump out into this lake. Apart from these two rivers, there are a number of other significant lakes and lagoons, which experience a continuous inflow of water by a set of perennial rivers. These backwaters facilitate an incessant network of inland communication, due to their linkage with numerous canals, via motor boats, cruise or canoes throughout the year.
goto topAsk For Suggested Tour
Accommodation
You will find a variety of good accommodation options in a charming tourist destination like Alleppey. Starting from luxury hotels to traditional houseboats, Alleppey offers several accommodation options.
How To Reach
By Air: The nearest airport is at Cochin, 80 km from Alleppey, which is well connected to the various important cities in India by regular flights.
By Rail: The Alleppey railway station is well connected to almost all the major cities in India.
By Road: Alleppey is easily accessible by bus or taxi from almost all the cities in South India.
Shopping
The bazaars of Alleppey are well stocked with good quality coir products, carpets, cardamom, coconut oil and silver jewellery.