Wayanad Tour
| | |
| --- | --- |
| Location | North-eastern Kerala, among the mountains of the Western Ghats |
| Significance | Popular for scenic as well as spiritual beauty |
| Climate | Hot summers and tropical monsoons; temperature varies from 20 to 35°C |
| Best Time To Go | August to May |
| Must Visit | Eco Resorts, Rain Forests, Pookot, Kalpetta |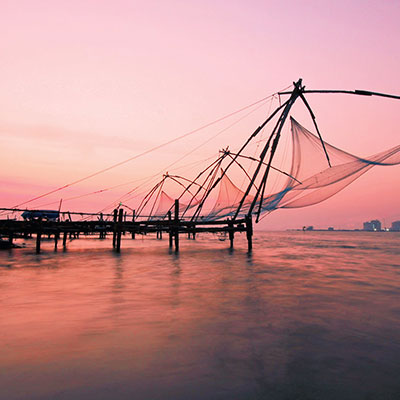 Travel to Waynad, the city that entices its tourists through its scenic beauty. One must travel this place to explore the culture and ethos. Wayanad means the land of paddy fields. It contributes about 36 percent of the tribal population of the state. The high altitude of the city is characterized by the cultivation of perennial plantation crops and spices. The major plantation crops include coffee, tea, pepper, cardamom and rubber.
History
In ancient time the land was ruled by the Vedar Rajas. Royal Dynasty of Kannur held rights to the land in early 18th century. It had done its campaigning in the Malabar Coast. Pazhassi Raja ruler of Kurumbranadu helped the British in their fight against Tipu Sultan. In 1979 after the fall of Tipu, the British took over Wayanad. The state of Kerala came into form in the year 1956. The present Waynad district came into existence on Nov 1, 1980.
Wayand Prominent Attractions

Eco Resorts
Wayanad is a place known for its tranquility. Its blossoming nature and enthralling ambiance is sure to leave you enchanted. The effervescent beauty and enriched natural aura of Kerala has inspired travellers from generation to visit the various destinations in Kerala. The beautiful Eco-Resorts in Kerala are the most loved holiday destinations.
Set in the scenic mountains of Kerala it is one of the most popular among the tourists. The Eco-Resorts features a distinct charm of its own. The Tree Houses in Wayanad are usually found in the forests surrounded by coffee, tea, pepper and cardamom plantations. These Tree Houses are made of wood. The other raw materials used to built these houses are coir mats, hay straws, bamboo poles etc. The natural pathways lead to beautiful spots with spectacular view of the valley. One can also view abundance of flora and fauna. Stay in these Tree Houses in Wayanad is an experience in itself.
goto topAsk For Suggested Tour
Rain Forest
The Western Ghats is a swaddle of green running parallel to India's western coastline extending to the south. The area covers barely 5% of India's landmass, but about a third is the plants. One can tour to these pristine areas from silent valley to Kodai Kanal to see the last remaining tract of the shoal rain forests. In the midst of a massive rain forest lies a little slice of plantation life.
Nature lovers can see orchids and plantation crops like coffee, cardamom, pepper and vanilla grown originally in the shade of rain forest trees. Most of the springs and mountain streams here are perennial and don't dry up even during the height Indian summer. The trail is quite slippery because of the ground being covered by a thick layer of fallen leaves.
goto topAsk For Suggested Tour
Jungle Activities
Wayanad Wildlife Sanctuary was established in 1973. Rich in biodiversity, the sanctuary is an integral part of the Nilgiri Biosphere. From here that Pazhassi Raja fought valiantly against the British. The deciduous forest comprises Maruthi, Rosewood, Venteak, Bamboo etc. The animal population of the sanctuary comprises elephant, tiger, panther, jungle cat, civet cat, monkeys, and wild dog which inhabit the sanctuary. Reptiles and a variety of snakes are seen. Peacock, cuckoos, owls, wood peckers can also be spotted in the area. One can set out on a jungle trip that includes jeep safaris, elephant safaris and trekking. The sanctuary is quite rich in flora and fauna. Nagarhole and Bandipur National Parks are also located at a close proximity.
goto topAsk For Suggested Tour
Ambukuthy Hills
The two rock caves at Ambukuthy Hills, 12 km south of Sultan's Bathery, contain ancient carvings and pictorial writhing with human and animal figure. They speak of a highly civilized people at an early centre of human habitation.
Edakkal Caves
Wayanad offers an insight into the interesting and picturesque topography of Edakkal caves. The word Edakkal refers to a situation when a stone is placed in between two other rocks. This reflects the strange position of one large stone jutting out of two rocks and in a way getting their support in a manner that it works as a natural shelter and as a place for the artistic expression.
goto topAsk For Suggested Tour
Thirunelly Temple
This marvel of temple architecture is shielded with 30 granite columns and the ground is paved with huge pieces of granite. This ancient Hindu temple is more than 3000 years old and is devoted to Lord Vishnu. There is a bridge from the Papanashini stream coming to the temple. In the southern side of Thirunelly temple there is a pond called Pancha Theertha.
Pookot
This natural fresh water lake, surrounded by evergreen forests and mountain slopes, is a haven for peace seeking travellers. It lies 3 km south of Vythiri town and is a wonderful place to spend lazy afternoons and enjoy boating.
goto topAsk For Suggested Tour
Chembra Peak
This is the tallest peak in Wayanad district and offers a perfect route for trekkers.
Shopping
Despite of being a small town, Wayanad is a nice place to buy good quality handicrafts and a variety of spices at reasonable rates. As the town has a number of coffee, tea, cardamom, pepper and rubber plantations, you can buy fresh quantities of these items as well.
Getting There
By Air: Kozhikode airport is located at a distance of about 25km from the centre of the city.
By Rail: Calicut is the nearest railway station from Wayanad region-62 km from Vythiri.
By Road: The city is well connected by road to almost all the parts of Kerala and a number of major destinations in India.